So, your kid secretly spent your money online?
If you're reading this article because you've already been burned once (and paid a hefty price for it), you're not alone. In fact, new research conducted by YouGov shows that one in two parents with children aged 8-17 say their children have spent their money without them knowing. On average, children have been spending $229 of their father's money and $122 on their mother's card.
While consequences might be necessary, education is key. Many kids spend this money, with no awareness of the actual value of it. Whether they're looking to level up in the game, purchase cheats, or unlock secret levels, their eyes are simply on the prize. This has little to do with them setting out intentionally to drain your bank account, and everything to do with their lack of impulse control when they're caught up in the gaming world. Let's face it, even as adults we can struggle to control our spending when there's something we desperately want, it's no wonder kids are simply hitting 'buy' without a thought.
So, it's our job as parents to encourage them to pause and think.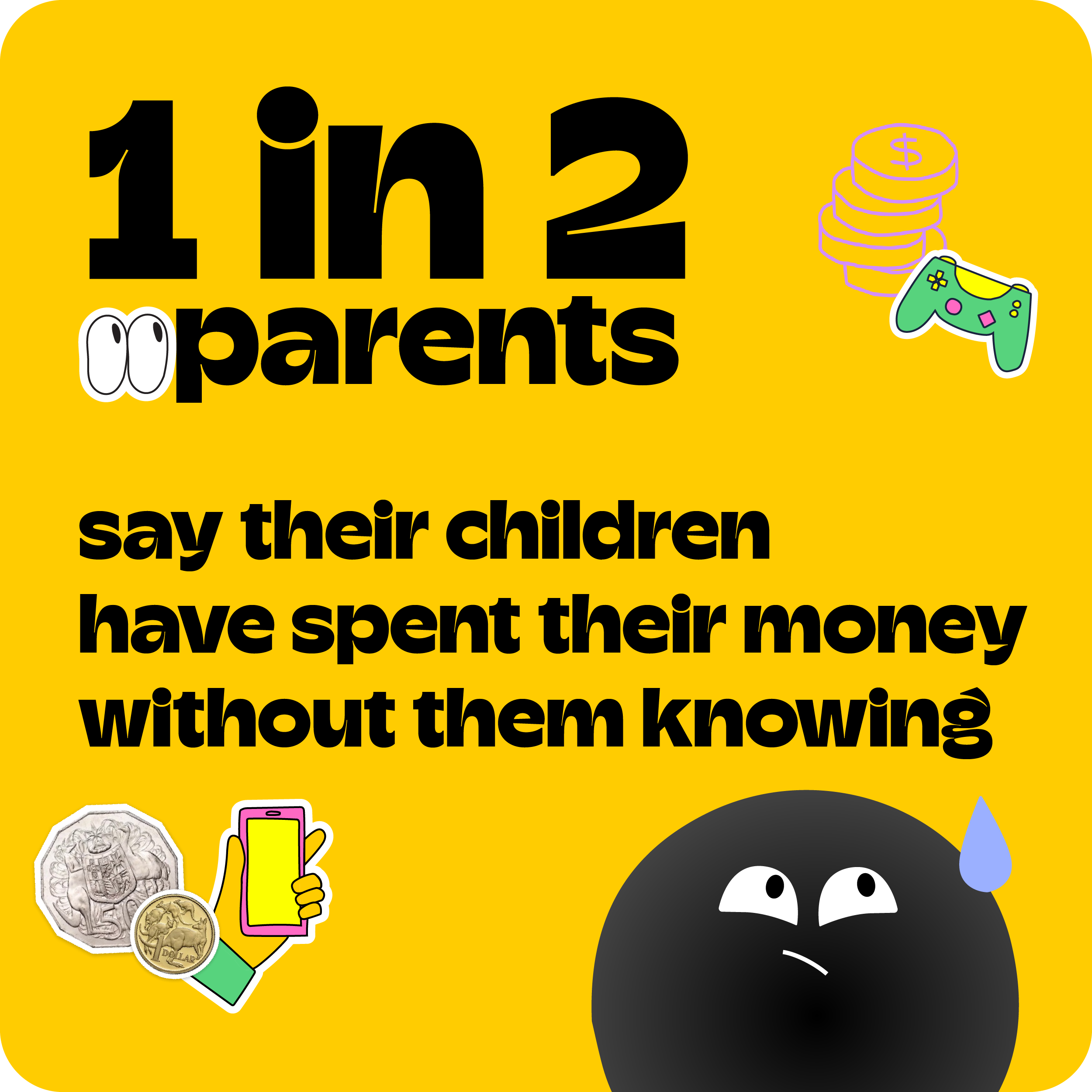 How to stop kids spending money on games: Parental controls
First thing's first, put those parental controls in place. Depending what device you're on, there will be different methods for achieving this.
In short, parental controls allow you to set up a password that has to be entered in before any purchases are made. Avoid using your kids' names or date of births, or your favourite streaming service code, because guess what: this is going to be the first thing they guess! Choose something difficult that they won't accidentally stumble across.
Home WiFi: Some routers come with software that enable you to set parental controls across the network. This covers ALL your connected devices, which is a huge bonus. The downside: you don't always get the same level of control as when setting up on individual devices. Check with your provider, or search online for products using terms like 'child friendly routers', 'child friendly wi-fi', 'family friendly routers' and 'child safe wi-fi'.
Mobile devices: on Apple products, you can restrict access to certain sites, in-app purchases, and more. Android doesn't have in-built parental control features, however can be controlled using Google Family Link.
Computers: on a PC, you can block websites and view activity reports on sites visited. On Mac OS, you can set up profiles for each child to limit their access to websites or apps and restrict functions.
Gaming consoles: all major consoles have parental control measures in place.
While this should put a roadblock in the way to help protect your bank account, it's still just as important to educate your kids. After all, you want to be able to trust them with money and know they'll make the right decisions.
Teaching your kids to be financially responsible
While you might be able to let a one-off purchase slide (after all, it could have been completely innocent), once you sit down and chat to your kids about what happened, it's time to start holding them accountable for their actions.
How can you do this?
Firstly, make the value of the money they have spent relatable. Show them how many weeks of pocket money and/or chores it will take them to pay off that $200 they racked up in apps and mobile games. If your kids are yet to spend money on online gaming (woo!), then use what you've learned about their game of choice to speak hypothetically.
Learn to speak their gaming lingo, so you understand exactly why they are wanting to make these purchases, and the external forces pushing them to do so. It's important to relate to them. Let them know you can empathise with just how tempting it is, but ask them to pause with each pop-up and consider whether they're willing to spend that amount of their weekly pocket money for that bonus?
Finally, let them know at the end of the chat that going forward, anything they purchase they will have to pay back with their own money. They are now accountable for their actions. Let them know that you will always be there for them if they want to talk a purchase through.
Ask them to pause with each pop-up and consider whether they're willing to spend that amount of their weekly pocket money for that bonus.
Use a Kit Card to prevent secret spending
Education is key when it comes to racking up those gaming bills. If your kids are financially aware and understand the value of the dollar, they're less likely to make hasty purchases without thinking.
Kit is designed to teach children basic financial lessons. It also offers a prepaid card for children that you can oversee on both of your devices. You can link this prepaid card to their own gaming accounts on their device, so any money spent comes directly from them. You can breathe easy knowing that merchants that are associated with alcohol, gambling and other over-18 activities are blocked from Kit. And, in Boss Mode, you have access to sophisticated controls, like merchant blocks that are customisable to each kid.This is the perfect way to slowly wean off the parental controls and start giving your kids some responsibility for their spending.
You have crystal clear visibility of what they are up to, while they have the freedom to spend their hard-earned money freely. It will even get them into the practice of checking their balance first, so they know how much they have to spend. It's the perfect learning curve that will pave the way to financial responsibility over time. Remember, by giving them control of their own finances, you have to let them make their own decisions. You might be tempted to step in and tell them what they can and can't spend their money on (after all, they don't need that many gems!), but this won't help them in the long term.
When it's their money, you can let them spend it as they see fit and learn the value of a dollar along the way.
Sign up to Kit today and begin your children's journey to financial literacy.
Consider the PDS, FSG, TMD and other important information at heykit.com.au/legal. Any advice given is general in nature and does not take into account your objectives, financial situation or needs so please consider whether it is appropriate for you.