As many as 1-in-4 parents are worried they are ill-equipped to teach their kids about money in the digital age.
More than two thirds of parents think AI could improve kids' financial literacy, and 8-in-10 say gamification could do the same.
Kit, a kids' money app built by Commonwealth Bank, has today published its inaugural Future of Financial Learning Report. The report shows parents are embracing new technologies which could change how kids learn about money, with more than two thirds of parents (69%) saying artificial intelligence (AI) could improve kids' financial literacy and a further 8-in-10 saying gamification could enhance kids' financial capability (78%).
Children are spending more and more of their time and money online - and The Future of Financial Learning Report suggests many parents feel ill-equipped to teach their kids about spending and saving in this new, digital world. But while technology is clearly part of the problem, it might also form part of the solution. The same research shows parents have both an appetite for, and confidence in, new forms of digital innovation such as AI and gamification, to help teach kids how to be more financially capable.

Yish Koh, MD at Kit
At a time when scams are becoming more frequent and sophisticated, parents seem confident that technology could be the answer. Over half of parents in Australia (56%) think AI and adaptive learning could help prevent kids from being scammed; and nearly 1-in-2 parents (45%) think gamified learning would make kids better at protecting themselves from scams.
Parents' belief in technology is counteracted by a lack of confidence in their own ability to teach their kids about money. As many as 1-in-4 parents (26%) believe they are ill-equipped to teach kids about money in the digital age. Perhaps more alarmingly, as many as 1-in-3 parents are worried about their kids' financial literacy and roughly half (46%) say their kids' financial future keeps them up at night.
At Kit we know that learning about money doesn't have to be boring, and we're constantly looking at ways we can continue to make it fun, engaging, and enjoyable. Kit Money Quests is certainly an iteration of that. With kids at the heart of what we do, our vision is to create an adaptive learning experience which tailors' education to different ages, cognitive development, knowledge and learning ability, underpinned by gamification.

Yish Koh, MD at Kit
It appears, however, that technology could be the answer. The following two tables refer to parent and carer sentiment towards AI and gamification's ability to help kids in key financial learning categories.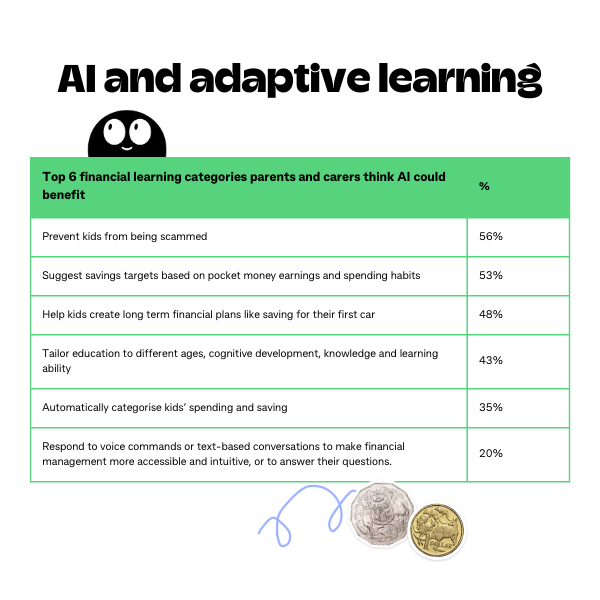 We know many parents can feel uncomfortable talking about money with their kids. Either they don't feel confident in their ability to explain sometimes complex concepts, or they don't want to expose kids to having to worry about the realities of day-to-day costs. But it is so important we do find ways to engage with our kids on the topic of money to equip them with the financial skills they will need to flourish as adults.

Jess Irvine, CommBank Personal Finance Expert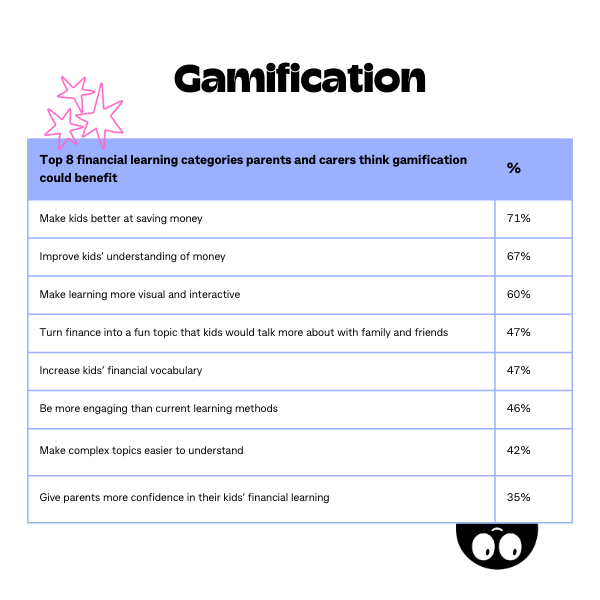 Kit unveils new gamification feature
Kit's new gamified learning feature includes quests that take place in the Moneyverse, a vibrant Quantum computing-inspired world with a smart money sidekick character called Kit. Kids travel with Kit through the Moneyverse on different quests, each designed to teach a new financial concept.
Today we release our first two quests into the new "Learn" tab in the app. With much more to come later in the year.
Kit Money Quests include mini games and nudges to complete real-world behaviours, such as setting up a savings goal. The quests are accessed via the Kit app and have been designed by a teacher and game director to build financial capability through bite-sized learning experiences and gamification.
The first release of Kit Money Quests includes two quests teaching kids how to set a smart goal and how to spot a scam. Children will be able to represent themselves in the app with a customised avatar choosing from over 70 unique assets including facial features, accessories, assistive devices, clothes, and costumes. Further Quests will be launched in the app later this year.
Kit will measure how kids are building their financial capability skills through real-life behaviours in the app, such as creating savings goals, and authentic scenario-based learning experiences including identifying scam emails and text messages and engaging in post-quest quizzes.
In the future, Money Quests will include quizzes for kids to learn core financial concepts, as well as a feature that will see users receive a currency called Winkits by completing quests, which unlocks rewards.
When it comes to having 'the money talk', it's best to start small, revisit the topic often and start much sooner than you probably think. Kids today are navigating a new digital world and tools like the Kit app can act as an important conversation starter for parents and kids to help develop those important skills like budgeting, earning and saving. It's never too early or too late to start talking to your kids about money."

Jess Irvine, CommBank Personal Finance Expert
Research Methodology
To develop the Future of Financial Learning Report, Kit engaged global market research company Pureprofile to conduct the survey between 25th Aug '23 and 4th Sep '23 involving more than 1,000 Australian parents representing a diverse cross-section of the adult population. The survey focused on assessing children's financial knowledge, education, and parental concerns about their financial well-being and future.
AI and Gamification Definitions
The AI component measured in the report is adaptive learning, an educational method which uses computer algorithms as well as artificial intelligence to deliver tailored resources and learning activities to address the unique needs of each learner. Gamification on the other hand is applying gameplay features to an experience to encourage engagement, such as quizzes, rewards, interactivity, point scoring, level progression, storylines, customisation, and avatars.
Media contacts
George Garnham
+61 449 944 709
Romina Favero
+61 425 865 057
---
Consider the PDS, FSG, TMD and other important information at heykit.com.au/legal. Any advice given is general in nature and does not take into account your objectives, financial situation or needs so please consider whether it is appropriate for you.