We get it - today, nearly everything online is instantaneous. Order a burrito and it's there in a couple of minutes. With just a few clicks, you can stock your fridge, book a trip, and even talk to a doctor. Billions of online transactions are processed nearly instantaneously, every day, all over the world. That's why Kit now offers the ability to use PayTo for secure, real-time payments directly from your bank account. But, being able to use this feature is dependent on your bank (the one you transfer funds from) being PayTo enabled.
This means that for some users, it won't be live right away and transfers may still take a little longer. If you are unsure, please check with your bank to find out if they have enabled PayTo.
Why can it take up to three business days to send money to your kid's Kit Account?
The reason PayDays and transfers from the Kit App currently take up to three days is because you are debiting funds from your bank account (Boss Linked Account) that is not the Kit Account.
A way to visualise this process is to imagine the "pulling" of funds from your Boss Linked Account to your Kit Account instead of "pushing" funds from your Boss Linked Account into an account.
What's the difference between "pushing payments" and "pulling payments"?
"Push" of payments is what you may be used to when you make payments through your banking app. Push payments are instant when payment is being made through Australia's New Payments Platform, sometimes referred to as Osko. Osko payments are made within your online banking app or account, and are typically built into the 'Pay Anyone' section of your banking app. When you send a transfer to a friend using your banking app, you are "pushing" funds to their account.
"Pull" of payments is a process that uses direct debit (for example, this is how your utility bills may get paid). Direct debit in Australia typically has a 3-day delay, due in part to the time required to register the Direct Debit mandate with the Australian Bulk Electronic Clearing System (BECS).
Using direct debit as your form of payment transfer means PayDays and transfers from the Kit App will show as 'pending' until the direct debit has cleared.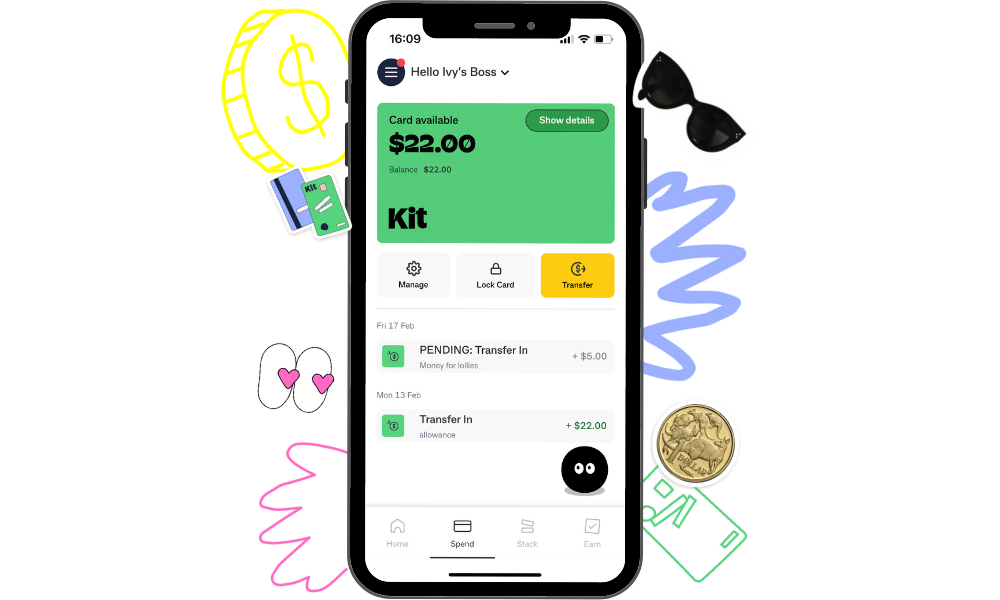 Push Payments to your Kit App with PayTo
Three business days can feel like a long time, so we've built a more modern and secure method (NPP PayTo) for transferring money into the Kit Account. That means, if you have a PayTo enabled bank account, your PayDays & transfers from the Kit App can be instant.
According to the PayTo website as of the date of this blog, 'PayTo is brand new in Australia, and it will take some time to become available for all retail banking customers. Your bank, building society or credit union will let you know once it is available. The industry expects that most customers will have PayTo enabled on their accounts by mid-2023.'
As new banks are continuously adding PayTo, we recommend you check with your bank to see if PayTo is now available.
Don't want to wait? Instant transfers to Kit Accounts are available using the Kit BSB & Account Number.
We understand it's an inconvenience and can be disappointing when kids have ticked their jobs and want to get paid right away. There are Stacks to stack and lollies to buy! Improving instant transfers is the biggest priority for the team right now and we hope to provide you a better experience in the coming weeks.
For now, you can instantly transfer to your Kit Account using the BSB & Account Number:
Go to Spend screen
Tap on "Show details" button on the prepaid card image
You'll find the Kit Account BSB & Account Number there
Use your own internet/mobile banking app to make the transfer
If you're transferring to a BSB and Account Number, the first transfer can take 1 business day, then future transfers should be instant. Voila!
Got a question you want an answer to? We don't know what came first, the chicken or the egg – but, our team knows the Kit App inside and out. We're hanging out most of the time on our Facebook Beta Community Group, answering questions, sharing polls, and hearing your feedback.
Don't have Kit yet? Sign up to Kit today and begin your children's journey to financial literacy.
Consider the PDS, FSG, TMD and other important information at heykit.com.au/legal. Any advice given is general in nature and does not take into account your objectives, financial situation or needs so please consider whether it is appropriate for you.